Wetootwaag's Bagpipe and History Podcast
About
About Wetootwaag's Bagpipe and History Podcast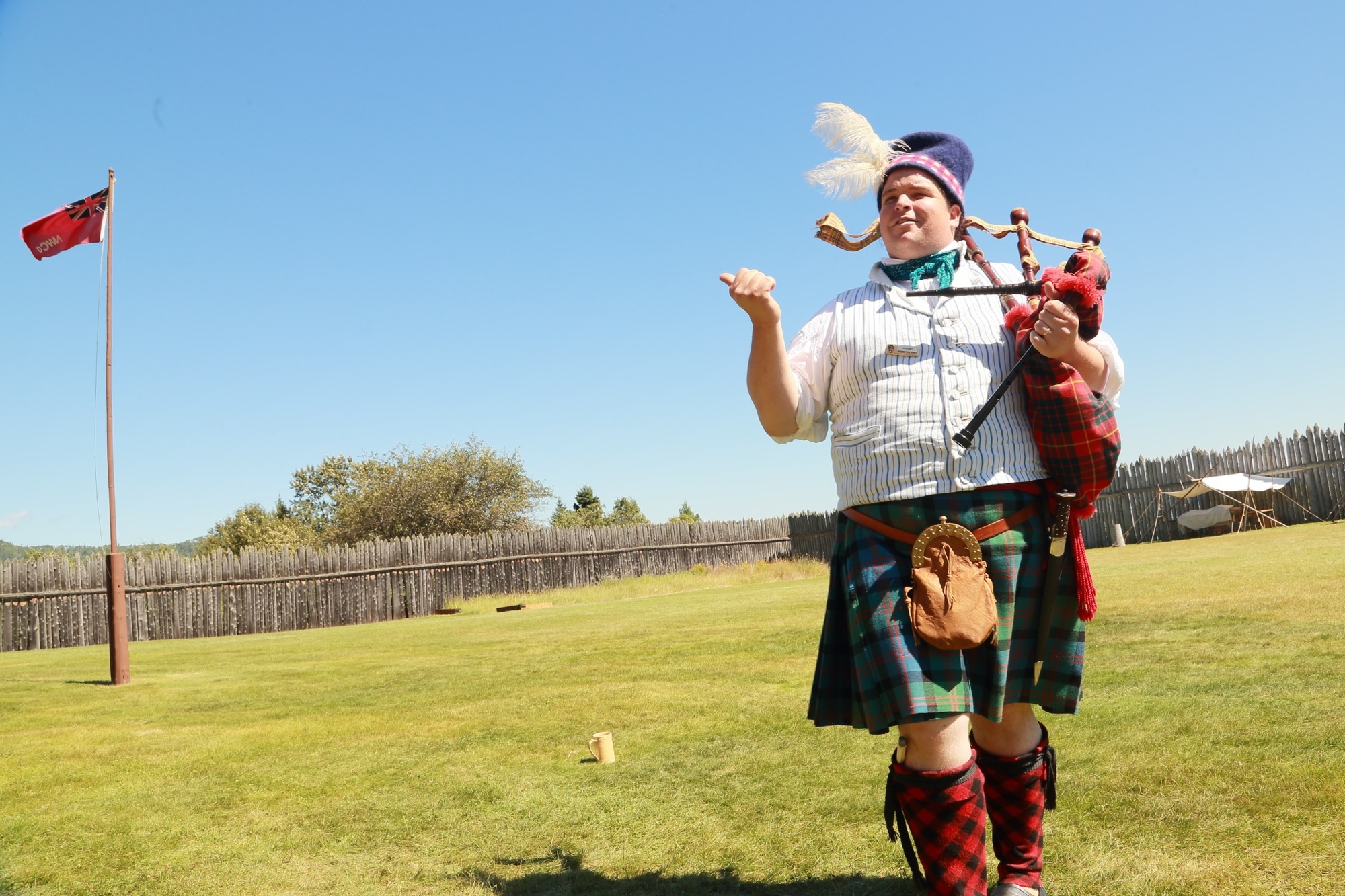 This show is (mostly) a bi-weekly podcast that explores the likely repertoire of eighteenth and early nineteenth century bagpipers, using historic music collections, written for bagpipes or not, performed on Uulleann pipes, Highland pipes and whistles. I've been podcasting on this fSS Feed since the early days of podcasting with a decade hiatus. But the show is back now, with a more addictive and predictable format. Essentially I'm making the podcast I wish existed when I was portraying an eighteenth century bagpiper for a living as a Park Ranger at Grand Portage (pictured below). Every episode plays through several different historic tunes, and links to the archive, library or collection where the sheet music can be viewed.
I love having guest musicians on, if you have a love for eighteenth and nineteenth century tunes and want to be on the show reach out to me!
+X+X+X+X+
What's a Wetootwaag?
When this Podcast first began back in 2006 I was living in Ojibwe Country and studying and Speaking Ojibwe a lot and my nickname was Wetootwaag. It is the Ojibwe word for Jello, or that which jiggles. In 2006 I was concerned with white supremacist's adoption of bagpipes, and in my Ojibwecentric brain I assumed everyone would know Ojibwe was an Indigenous name and therefore this show "Wetootwaag's Podcast of Bagpipe Power" was not an endorsement of racism. In hindsight I was rather Naieve haha, but the name has stuck, and renaming the Podcast as a "Bagpipe and History Podcast" came about after the URL had already been set as wetootwaag. Plus...it makes me happy that people all over the world have at least one Ojibwe word on their lips whenever they talk about the show.
What about Jeremy?
I did a long interview on the Droning On Podcast where I talk about my history with piping if you have 3 hours to spare listening to two pipers become friends on a podcast in real time:
https://droningon.podbean.com/e/034-wetootwaags-bagpipe-history-podcast/
The cliff notes version, is I became interested in piping as a 6 year old, hearing an album my dad had stolen from a co-worker, and for a while said I wanted to be a bagpiper the same way many under ten year olds said they wanted to be a fireman. When I was 9 my parents found me instruction with Billy Mitchell Scottish Pipes and Drums in Milwaukee. The year it took me to go from chanter to pipes felt like an eternity, and I even quit for a couple weeks deciding it was too hard, and I would be a snare drummer. Snare drumming turned out to be pretty hard too so I went back to the chanter. I was fairly frustrated with the pipeband/competition scene from the get go, I also didn't really understand it. I solo competed two times, once at the Milwaukee Highland Games and the other time at the Rockford Highland games, both times I just wondered onto the field never having paid any registration or organization fees or dues and asked to compete and was added onto the roster. There is something to be said for being an 11 year old bagpiper in the States opening up doors for you. I had heard that Uilleann piping was supposed to be more liberating and less regimented and thanks to being an eleven year old kid playing pipes I was able to get a practice set of Kwisthout pipes for far less than I should have from another dissatisfied Highland Piper.
I did one gig with Billy Mitchell at the Milwaukee Irish Fest and decided it wasn't for me. I really wish I had stuck it out, I didn't realize how much I missed out on playing with other pipers until going to college in Bemidji Minnesota and meeting up with the short lived parade band "1st City Pipe Band." Around that time I started the Podcast, which was far less stuctured and rambly than it is now (Believe it or not) if you want access to those early episodes more of them than I wish are available via some internet sleuthing, but I put out embarassing segments from earlier episodes from time to time on my bonus episodes on my Patreon feed:
https://www.patreon.com/wetootwaag
in 2003 I began working as a seasonal Park Ranger for Grand Portage National Monument. Grand Portage was the headquarters of a Scottish Fur Trade Company which employed several bagpipers over their 40 year history. I gave regular concerts and programs as a part of my work there. You can hear a version of my Bagpipe Talk at Grand Portage given from my office in 2020 here: https://fb.watch/9O9_O8eOyr/
Grand Portage was a good fit for me. My two passions in life have long been Ojibwe Language and Bagpipes, with history relating to both things as the way I relate to both. Grand Portage is an Ojibwe Reservation in Minnesota, United States. In my 14 years working there as a Park Guide or Ranger I was albe to not only play a lot of historic bagpipe tunes, but also build wigwams, canoes, lacrosse raquets and other Anishinaabe cultural items while teaching Ojibwe language to my co workers and the kids I menotred through the Mentorship program the Grand Portage Band ran.
Today I'm a PhD Candidate in History. My dissertation research pulls on my Ojibwe Language skills to talk about Anishinaabe Gender and Sexuality from about 1760-1821. Mostly my professional work is far more Ojibwe focused than Scottish, but I am planning to incorporate a chapter on Orcadian Fur Traders and their interactions with Ojibwe or Anishinaabe folks on the Red River. You can hear some of my thoughts on Fur Trade History and its connections to Scotland in this recorded video of a presentation I gave in Stromness, on the Orkney Islands in 2019: https://www.youtube.com/watch?v=aa2YLWzo4lk
What About My Instruments?
My GHB Set up that I mostly use for the show is:
Kintail Drones with Ezee drone Tenor and Cane Bass, with a Hardie chanter from the 1960s with a Shepherd Bb reed
My Uilleann Pipes setup is:
A set of Boisvert Drones and Regulators. All of season 4 and early season 5 I'm playing a Boisvert Chanter as well, but starting Season 5 Episode 8 I began playing a Koehler and Quinn Chanter with Eezee drone reeds in the drones.
My Smallpipes setup:
Season 4 I'm using the Shepherd Highland Musette, eventually I traded it for a set of D small pipes made early in the Smallpipe revival by Denny Hall.
My Boderpipes Setup:
All of the Border Piping in Seasn 5 was played on a borrowed set of Nate Banton Border pipes in A with an extra E drone.
Whistles:
I play a bunch, Bb, C and G Generation Whistles, a C and D Woodi whistle, a Low D Chieftain Whistle, and a Boisvert D Whistle
Jaw Harps:
I play mostly a Mohan morchang, but ocasionally I'll play a Muaro Lighthouse, and an additional Morchang of unknown make.
Wetootwaag is an Ojibwe word, and I have recently started up my Ojibwe language podcast, you can give it a listen here:
Wetootwaag's Bagpipe and History Podcast on social media